The Forgotten Fees of Home Ownership! Dont forget to factor these in....
By Marcie Lowery
Many first-time homebuyers focus on the purchase price and mortgage payments but when the dust settles, dont forget about the "forgotten costs" to budgeting for your new home. Some potential hidden costs to consider include: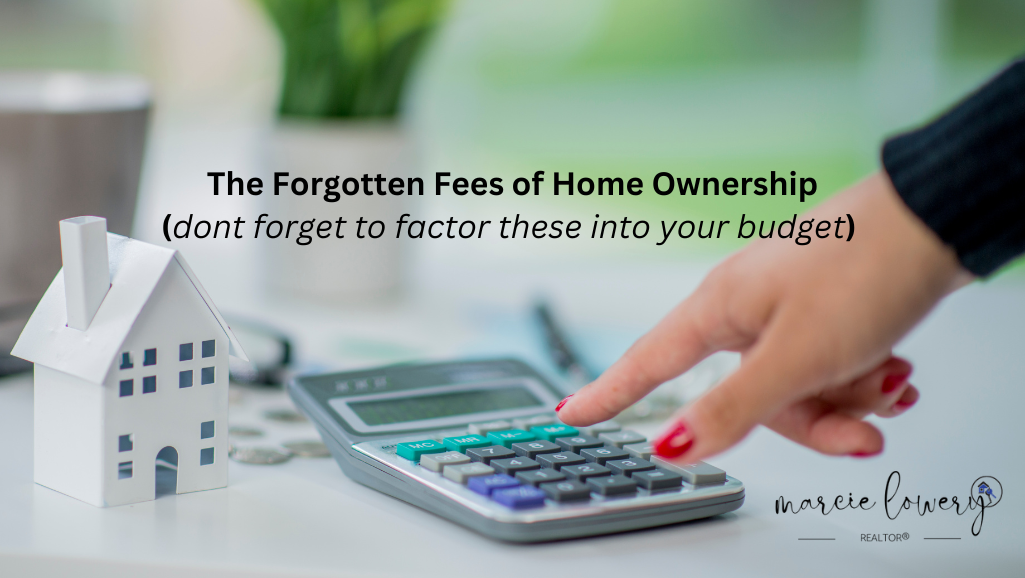 ---
Closing costs: These are fees associated with the finalization of the home purchase and typically include expenses such as appraisal fees, attorney fees, title insurance, home inspection fees, and loan origination fees. Closing costs can range from 2% to 5% of the home's purchase price. As your trusted Realtor® , I always provide an ESTIMATED Buyers Cash to Close worksheet per property that you have an interest in making an Offer. Your preferred lender can also give you an Estimated amount of what you need in liquid funds to complete your purchase.
Property taxes and homeowners insurance: When buying a home, property taxes and homeowners insurance will be part of your ONGOING expenses. These costs can vary depending on the location and value of the property. As soon as you nail down the home you want to make an Offer on, give the address to your insurance person and ask them to give you an estimate (there's that word again) monthly cost to insure. As you own your home, these fees change due to economics, claims, mother nature, you get the picture. You can shop insurance yearly to see if you can get better premiums. Many homeowners forget to shop until it makes a noticeable impact.
Maintenance and repairs: Aaaaah, the joys of owning your own home are not without keeping it in tiptop shape. As a homeowner, you are responsible for maintaining and repairing your home. This includes routine maintenance like landscaping, cleaning, and servicing various systems (e.g., HVAC, plumbing). Additionally, unexpected repairs can arise, such as a leaky roof or a malfunctioning appliance, which can be costly. Routine maintenance can help you mitigate these from becoming sticker shock items. Neglect is costly. Schedule yourself time to routinely check and clean your rain gutters, poke your head up in your attic every once in awhile with a flashlight and check for any moisture spots on your roofing; and change those air filters every 15 -30 days. 15 days is recommended if you have indoor pets. Keep weeds and tall grass away from the outside unit and set up a 2x a year routine check up to keep your system running efficiently. A little expense throughout the year can save you thousands in the long run.
Utilities: Utility costs, including electricity, gas, water, and sewer services, should be factored into your budget. The expenses can vary depending on the size of the home, the climate in your area, your personal usage. Texas is deregulated, meaning in many areas of Texas - you get to shop for electricity. If the property is within a rural to semi-rural area, you might get lucky and have a county co-op providing electricity. When viewing homes, pay attention to the age of appliances, take a peek at the breaker panel (your home inspection will go into deeper detail), notice the age of the HVAC. What the current occupant spends on utility expenses will not have the same cost effect for you.
Homeowners association (HOA) fees: If you purchase a property in a community with a mandatory HOA, you will have monthly, quarterly, or yearly fees to cover the maintenance and management of common areas and amenities. Be sure to take a walk through the neighborhoods amenity center, pool, parks, etc to get an idea if the expense is hard at work for current homeowners. Are you getting your money's worth when it comes to HOA services? Your lender will ask for HOA details as well, so they can factor that expense into your debt to income (DTI), but typically not included in your mortgage payment. That will be a separate check directly to the HOA management company. I'll write up a blog on the Pro's & Con's of owning in an HOA.
Moving expenses: Moving from your current residence to your new home can involve various costs, such as hiring professional movers, renting a moving truck, or purchasing packing supplies. Beg & borrow and find out who your true friends are if you are moving from an apartment into your first home. All jokes aside - if you are saving pennies for your new home - offer drinks & apps at the neighborhood pub to all who come out to help you knock this step out.
It's crucial for first-time homebuyers to budget for these forgotten costs in addition to the down payment and monthly mortgage payments. Dont be shy to ask me these unknown expense questions - The end goal is that we get you into a home your a comfortable with and that wont extend your comfort level with mortgage plus monthly expenses.